Crazy Runner Boy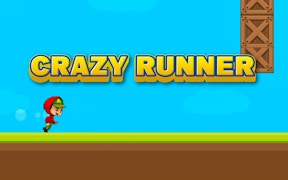 Crazy Runner Boy
Description
Experience an adrenaline rush in Crazy Runner Boy, an arcade game that will test your agility, reflexes, and stamina. You must guide your energetic character through a perilously fast-paced environment filled with various obstacles and threats. Execute swift jumps and exhilarating flips while maintaining stride in this breath-taking run for victory.
How to play
To succeed in Crazy Runner Boy, you need to harness your quick reflexes. Use the arrow keys or swipe gestures (for touch devices) to control your character. Jump and flip over obstacles while gathering coins for extra points. The faster you go, the higher your score multiplying factor becomes. The game progressively gets quicker requiring razor sharp reactions to survive.
Tips and Tricks
Timing is crucial in Crazy Runner Boy. Jump early to avoid tripping over obstacles, and practice your flips since they can help evade taller barriers. Keep an eye on the upcoming terrain to anticipate moves, remember that speed boosts are double-edged swords - they increase your score but also the game's difficulty.
Features
Fast-paced gameplay: The game continually increases in speed as you progress.
Engaging Controls: Responsive and intuitive controls for a smooth playing experience.
Reward System: Collect coins throughout the run for bonus points.
Vibrant Visuals: Aesthetically pleasing graphics that enhance the gameplay experience.
What are the best online games?
Tags