Crazy Colors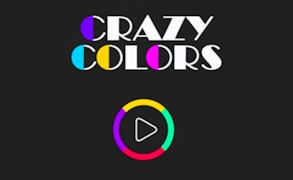 Crazy Colors
If you're a fan of clicker games and tap games, brace yourself for a vibrant journey into the arcade universe with Crazy Colors. This game undoubtedly strokes the right chords of an adrenaline rush, skillful timing, and a color puzzle all at once.
Right off the bat, Crazy Colors takes you into a world of continually shifting palettes where your primary task is to gently touch your glowing sphere and guide it through a labyrinth of color-coded obstacles. The catch? The color of your ball changes at every junction! You must then orient the ball to pass through the obstacle that matches its color; else, it's back to start!
Sounds easy? Think again! The game tests not just your reflexes but also your ability to anticipate what lies ahead. With every successful maneuver, you'll find yourself inexplicably drawn deeper into this kaleidoscopic world, thanks to its seamless graphics and engaging gameplay.
This frantic pace combined with radiant colors gives this game an unmatched addictive quality. It's far more than just about crazy colors; it's about how fast you can think on your feet while racing against time.
As if that wasn't enough, the game also offers a series of awards and bonuses that spice up things even further. From power-ups that help you bypass obstacles to score multipliers that boost your overall points - there's always something exciting around every corner.
In conclusion, Crazy Colors is not just one of those typical arcade games. It's an immersive experience that will test your agility and decision-making skills in a challenging yet entertaining way. So whether you're an ardent fan of tap games or someone who enjoys an exciting game to pass time, Crazy Colors is sure to leave you captivated!
What are the best online games?
Tags