Cowboy Rush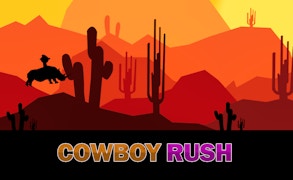 Cowboy Rush
Description
In Cowboy Rush, you step into the boots of a daring cowboy in an adrenaline-pumping chase. This game offers unlimited action in an endless run format. Your primary mission is to keep running, dodging various obstacles and enemies on your path. The game demands precise timing, quick reflexes and strategic moves from the players. With each passing second, the pace of the game accelerates, ramping up the excitement.
How to Play
Playing Cowboy Rush is simple yet challenging. You control your character's movement using your device's touch screen or keyboard. Swipe left or right to change lanes, swipe up to jump over obstacles, and swipe down to slide under them. Distance covered equals points, so keep running! As you progress, enemies and obstacles get tougher - but remember, the longer you run, the higher your score.
Tips and Tricks
Timing is everything in Cowboy Rush. Pay attention to upcoming obstacles and enemies - reacting too early or late can bring your run to an end. Collect power-ups along your route; they can provide temporary invulnerability or speed boosts that can get you out of sticky situations. Remember: don't stop running!
Features
Infinite Run format ensures non-stop action
Intuitive control scheme suitable for players of all ages
A dynamic difficulty system that ramps up as you progress
Engaging power-ups that enhance gameplay
Vivid graphics that create a captivating gaming environment
What are the best online games?
Tags