Couples Yoga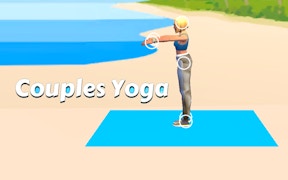 Couples Yoga
Step into a world where your physical ingenuity meets virtual reality in the captivating arcade simulator game, Couples Yoga. A unique blend of skill games and gymnastics games, Couples Yoga takes you on an innovative journey that tests your wits and agility. Adding a fresh spin to traditional simulator games, this game deftly combines the principles of yoga with high-tech 3D modeling, providing an immersive gaming experience like no other.
The premise of the game is simple yet challenging. Your task is to maneuver specific body parts to match the marked pose displayed on each level. But be warned - this isn't your typical walk in the park. The game demands absolute perfection, urging you to move each body part with meticulous precision to achieve maximum progress at every step. It's a delicate balance between strategy and dexterity, sure to push any seasoned gamer's skills to their limits.
For those seeking a sense of accomplishment, Couples Yoga offers a rewarding system of three yellow stars awarded upon successful completion of each level. Yet another reason why this game is not only entertaining but also incredibly addictive. Whether you're a casual gamer or die-hard arcade enthusiast, Couples Yoga is sure to keep you engaged and coming back for more.
In conclusion, Couples Yoga breaks away from conventional simulator games by merging yoga-inspired gameplay with state-of-the-art 3D graphics. Its dynamic fusion of skill-enhancing tasks and engaging plot makes it an unparalleled addition to the arena of gymnastics games. A must-try for anyone seeking an arcade gaming experience that's different from the norm and yet satisfyingly challenging!
What are the best online games?