Cooking In The Kitchen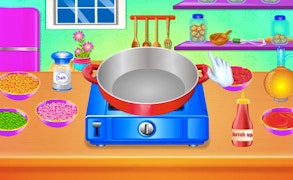 Cooking In The Kitchen
For those little gamers nurturing a passion for Cooking and Puzzles, the game Cooking In The Kitchen offers a delightful mix of fun-filled learning. Stirring the imagination of young minds, this game surely earns a spot in the coveted league of top-rated Games for Kids and ideal Games for Girls.
The game cleverly instills culinary art skills as you virtually whip up your dream meal. The options are tantalizing - from donning the hat of a pizza pro to morphing into a hamburger hero. A unique kitchen adventure meant to hone practical skills as all junior chefs are put in charge of their home-based kitchen. Here, they envision their journey from being a domestic master chef to an accomplished food-truck owner or even running their own restaurant.
Cooking In The Kitchen not only ignites a burning passion for cooking but also sets off an exploratory Cooking fever. Every junior chef is encouraged to expand their culinary repertoire, try new recipes, work faster with every attempt and improve their cooking technique akin to a professional master in culinary arts! As you dive deeper into the game, it unravels a beautiful symphony of gastronomic delights that help kids embrace creativity, improve focus and build patience - all while having an amazing time.
In conclusion, Cooking In The Kitchen serves well its purpose as an engrossing learning tool, especially among cooking games. It gives kids an immersive experience into the culinary world while facilitating fundamental growth through puzzles and challenges. This smart blend of education and entertainment ensures that it stands out brilliantly in the genre of puzzle games created specifically for kids. So all Jr Chefs out there - prepare yourself for a fun-filled cooking journey with Cooking In The Kitchen!
What are the best online games?