Connect The Dots Game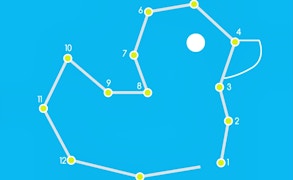 Connect The Dots Game
If you're on the hunt for captivating games for kids that blend entertainment and education seamlessly, then look no further than the engrossing Connect The Dots Game. This strategic puzzle game ingeniously incorporates the fun elements of drawing games and the intellectual stimulation of puzzle games in one incredible package, creating an unforgettable gaming experience for your kids.
The concept of Connect The Dots is straightforward yet exciting. Kids find joy in drawing a line by connecting the dots, and the sense of accomplishment when they perceive the image they've managed to recreate is hard to match. Not only does this game make them feel like little artists, but also cultivates their problem-solving skills, making it a top-tier choice among learning games.
The game's design is notably child-friendly with colorful graphics and cute animal illustrations which give it an edge over other animal games. The experience is further enhanced by its charming soundtrack that never fails to keep them engaged. The interface is user-friendly too, ensuring smooth navigation even for first-time players.
The gripping suspense before the final picture materializes keeps your kid on their toes throughout their gaming session. Additionally, new images are regularly added to ensure there's a fresh challenge awaiting them every time they play.
In conclusion, Connect The Dots Game successfully integrates fun and learning in a vibrant digital setting that your kids will undoubtedly adore. As one of the most interactive and educative kids' puzzle games, it's not just a game. It's an adventure that takes your kid on a cognitive development ride while keeping them thoroughly entertained. Highly recommended!
What are the best online games?