Conduct This!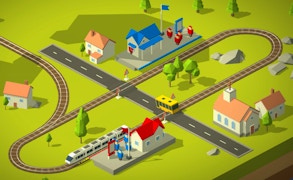 Conduct This!
Step into the shoes of an expert railway commander in the thrilling arcade game, Conduct THIS! This heart-pounding, nerve-racking journey transcends typical driving games, transporting you into a stunning world where every decision could be your last.
Redefining the standards of management games, Conduct THIS! fills your screen with explosive railway action that will test the skills of even the most seasoned gamers. With incredibly simple controls, it's not about complexity here - it's all about precision, timing and smart decisions. Like an intense game of chess on steroid-infused rails, this is a pressure-cooker that demands you to keep your cool amidst rising tension.
Unlike straightforward parking games, Conduct THIS! demands an intense level of strategic acumen, as you race against time to bring passengers safely to their destination. It requires you to command trains, switch tracks and avoid collisions in increasingly challenging action-puzzles; each level outdoing the previous one with an added layer of complexity.
Taking its rightful place among top-tier simulator games, Conduct THIS! consistently rewards progression. As you unlock new trains and gain access to beautiful regions shrouded in mystery, every success is celebrated - adding a sense of achievement that keeps you glued to the screen for hours on end.
In conclusion, if you're looking for a game that blends speed, strategy and simulation with pulse-pounding excitement - look no further than Conduct THIS! It sets a new standard for arcade gaming that other titles can only aspire to match.
What are the best online games?