Concrete Boots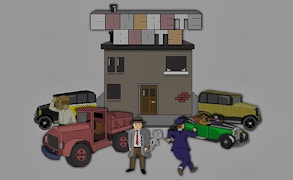 Concrete Boots
Description
In Concrete Boots, you delve into the gripping underworld of mafia simulation. Build your very own criminal empire from scratch, ruling the city with an iron fist. From hiring henchmen to setting up illegal ventures, you'll have your hands full. You are tasked with managing your empire's dirty money, eluding government scrutiny while exploring the city's dark corners and raising to power. The game invites players to not just survive, but thrive in a world of extortion, drugs, and war.
How to play
Your goal in Concrete Boots is securing control over the city's criminal underworld. Use your mouse to navigate through the interactive environment, assigning tasks and managing operations. Successfully complete actions like hiring henchmen or dealing drugs to increase respect, which boosts your influence over other gangs. The game requires strategic planning for avoiding tax evasion charges and expanding your empire without being toppled by rivals or the long arm of the law.
Tips and Tricks
To succeed in establishing a thriving criminal empire in Concrete Boots, management skills are vital. Learn to prioritize tasks effectively for higher profits and keep a balanced approach between using force and diplomacy. Remember that all choices have consequences — being too aggressive might attract unwanted attention, while being too passive may lead rivals to encroach on your territory.
Features
Mafia Simulation: Realistic representation of life as a mob boss.
RPG Elements: Hire men, setup rackets & manage finances.
Action-Packed Gameplay: Evade taxes and wage wars against rival gangs for territory.
Immersive World: Explore the dark corners of the city and its inhabitants.
What are the best online games?