Colorindo a Criaçao do Mundo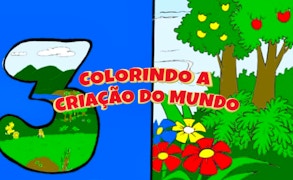 Colorindo a Criaçao do Mundo
Description
Experience the captivating Brazilian storytelling game, Colorindo a Criaçao do Mundo. Designed as an interactive and educative experience, this game takes players through the biblical story of Genesis. With seven unique drawings representing each day of creation, players get to color and bring life to these images while listening to the engrossing narrative in Brazilian Portuguese.
How to Play
This game is simple but engaging. After launching it, you will see a new image each day related to the creation story. Select your favorite colors from the palette and color each image accordingly. As you color, listen to the corresponding story told in an age-appropriate way for children.No particular controls are needed, making it suitable for all ages.
Tips and Tricks
To make sure you gain the most out of this game, engage with every element in it. Listen carefully to the story while coloring. Also, feel free to experiment with different shades and colors - there's no right or wrong. The more you play, the more you appreciate this biblical narrative.
Features
Auditory storytelling in Brazilian Portuguese: Enhances language skills while offering engaging playtime.
Creative coloring gameplay: Stimulates artistic expression and imagination among children.
Educational content: Detailed biblical stories related to each day of creation.
Suitable for all ages: Designed in such a way that everyone can participate and enjoy.
What are the best online games?