Colorful Dragons Match 3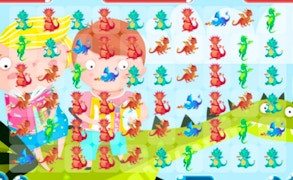 Colorful Dragons Match 3
A magical concoction of fun and strategy mixed into one; Colorful Dragons Match 3 is not your average kids puzzle game. This ingenious entrant in the match 3 games category has more to it than meets the eye. It's an ideal game for parents looking for engaging games for kids, bursting as it is with vibrant colors, cartoon dragons, and a challenging twist on the typical match 3 formula.
Dive into the lively world of dragons and embark on an adventure that will leave you breathless and yearning for more. Dragon games enthusiasts will find themselves lost in a realm where they need to create chains of three or more blocks of the same color to score high points. But remember, this is no ordinary leisurely stroll through Dragon land; you must ensure the scale to your left doesn't dip too low or it's game over.
This stimulating match-three animation truly embodies what brain games should be. It's not just about matching blocks but strategizing and planning efficient moves for the highest possible score. Young gamers are kept engaged with its bright graphics, congenial sound effects, and the charming appeal of mischievous little dragons.
With its distinctive take on dragon gaming, Colorful Dragons Match 3, stimulates young minds while improving their focus and cognitive abilities. It skillfully blends casual gaming with brain-training exercises that captivate kids while promoting learning in disguise. To conclude, if you're on the lookout for an engagingly fun puzzle-match game that marries fun gameplay with cognitive development, then Colorful Dragons Match 3 would indeed be a perfect choice.
What are the best online games?