Color Merger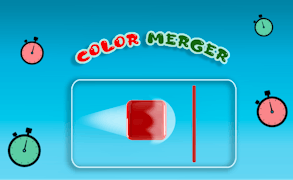 Color Merger
Description
In Color Merger, you have a chance to test your wits and reflexes. This captivating arcade game presents players with a unique challenge involving cubes and walls of corresponding colors. Your objective is to ensure each cube hits the adjoining wall of the same color. Failure to do this before the time runs out will end your run in this thrilling hyper-casual game.
How to play
Become a master at Color Merger by accurately clicking on the cube that matches the color of the impending wall. The game progressively increases in speed, thus requiring your full concentration and fast reflexes. A timer is present at the top of the screen showing how much time you have left. The controls are simple: click to hit, but remember, only the matching color will do!
Tips and Tricks
To succeed in Color Merger, keep an eye on both the wall and cube colors constantly. Don't panic if you see different colored cubes lining up; instead, focus on matching colors before time runs out. Remember that precision is key – each successful move extends your playtime.
Features
Arcade-style gameplay that's easy to understand but difficult to master.
An adrenaline-pumping timer that keeps you on your toes.
Progressive difficulty increase for a constantly evolving challenge.
A visually appealing design based on color-matching mechanics.
What are the best online games?