Color Match 3D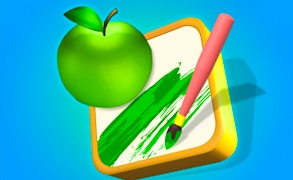 Color Match 3D
Immerse yourself in a world of vibrant hues and captivating puzzles with Color Match 3D, an engaging and free online puzzle game for boys. This innovative take on traditional drawing games and coloring games truly stands out in the realm of brain games. As an opportunity to paint anytime and anywhere, Color Match 3D delivers endless fun garnished with a splash of creativity.
Color Match 3D goes beyond simple mix-and-match tactics - it's an intelligent blend of color theory, spatial understanding, and artistic expression. As you progress through the game, you are given a palette to mix colors from, and a 3D model that needs your brush strokes. Your objective? Perfectly match the target color provided. The beauty here is that every move not only tests your grasp over colors but pushes your intellectual boundaries.
The grading system is based on how accurately you match your mixed colors with the target. This unique scoring metric adds a delightful competitive edge to this brain game. The better your color matching skills, the higher your grade – pushing you to be precise and perfect in your color selection and blending.
A standout feature in Color Match 3D is its real-world consequences. Those high-quality designed items? They stand a chance to be auctioned! Every painting you create isn't just for points; they could potentially earn their place in an auction house or better yet, be displayed in your in-game orchard for all to admire.
So, are you ready to test your wits with this fusion of artistry and logic? Color Match 3D awaits those looking for a challenge that taps into their artistic side while fueling their love for captivating brain games.
What are the best online games?