Color Flap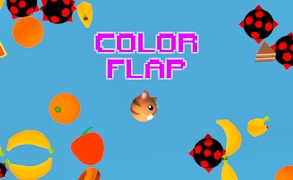 Color Flap
Description
In Color Flap, you're tasked with one daring mission: help your character traverse a perilous sea. This vibrant game combines elements of arcade action and clicker charm. As you get deeper into the game, the challenge escalates, demanding improved timing and precision from players. Navigate your flyer through meticulously designed levels, collect vital charges while avoiding dangerous obstacles.
How to Play
You control your flyer by a simple tap or left click or pressing the Space bar to flap. Collect charges as you progress in each level. Use these charges by tapping or right-clicking on their icons. The game is all about timing and dexterity, so plan every flap of your character carefully.
Tips and Tricks
Master the rhythm of your flaps to manoeuvre through levels cleanly. Be watchful of the patterns of obstacles and adapt quickly. Don't forget about using your charges when things get tricky, they are a significant lifeline in this thrilling journey.
Features
Vibrant aesthetics: Colourful design keeps visuals fun and engaging.
Skill-based gameplay: Tests player's timing and precision across various challenges.
Progressive levels: As you proceed, each level brings an escalating challenge adding to replay value.
User-friendly Controls: Simple tap or click controls make this game accessible for all age groups.
What are the best online games?