Color Fill Game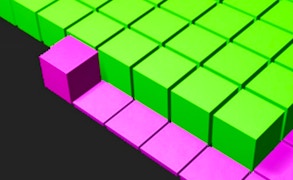 Color Fill Game
Escape from the mundane, immerse yourself in a world teeming with color creativity and strategic thinking! Welcome to the vibrant, visual feast that is Color Fill, a kaleidoscope of coloring games that combines the elements of block games and brain games all packed into one exhilarating package!
Color Fill is not just a game, it's a mesmerizing journey where you maneuver your way across an intricate grid filled with gray and black blocks. Your mission - to transform this monotonous surface into a vibrant backdrop brimming with color! Consider this game as your canvas, and the color-filled blocks as your palette.
The gameplay is incredibly intuitive and straightforward - move the blocks, flatten them across the grayscale surface, and awaken its dormant potential. The beauty of Color Fill lies not in its complexity but rather in its simplicity. It's about taking something as mundane as a black & gray grid and turning it into something visually arresting. However, don't let this simplicity fool you - beneath its shiny exterior lies a game that demands strategic thinking and keen eye for detail.
As if the joy of coloring wasn't enough, Color Fill adds another exciting dimension to this digital artwork - diamonds! As you navigate your way through this thrilling journey, keep an eye out for these glittering jewels scattered across your canvas.
If you're seeking solace from the daily grind or merely looking for leisurely fun, Color Fill is an impressive choice. It's more than just a game; it's an escape to a world where you're the artist, the strategist - the master of your colorful universe! Dive into this enticing world of coloring games, block games, and brain games today with Color Fill.
What are the best online games?