Color Dispatch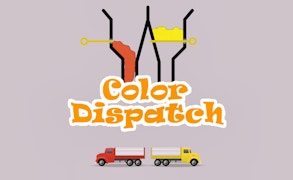 Color Dispatch
Description
Enter the vibrant world of Color Dispatch, a puzzle game with a twist. Trade in traditional pieces for vividly colored trucks, requiring your wit and dexterity to navigate through the challenging levels. The game is designed to captivate you with its eye-catching visuals and intriguing sound effects, creating a mesmerizing experience that will leave you craving for more puzzle-solving adventures.
How to play
The game is skillfully designed with a user-friendly interface. Navigate your truck by clicking or tapping on the screen, guiding it to its destination. The objective is simple - deliver your truck to its color-coordinated endpoint. As you progress, the puzzles become increasingly complex, requiring more strategic planning and sequencing.
Tips and Tricks
To excel in Color Dispatch, keep in mind that not every move needs to be hastened. Take your time to understand the puzzle layout before making a move. Analyze the optimal routes and sequence your moves accurately to solve the progressively challenging puzzles.
Features
Engaging Puzzles: Enjoy an array of levels each progressively challenging your puzzle-solving skills.
Attractive Visuals: Lose yourself in captivating colorful graphics.
Soothing Sounds: Immerse yourself in strategically soothing soundtracks that enhance gameplay.
Casual Gameplay: Pick up and play at any time with easy-to-understand controls.
What are the best online games?