Clone Ball Rush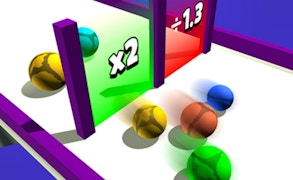 Clone Ball Rush
Step into the thrilling world of Clone Ball Rush, a mesmerizing blend of arcade, skill, and running games. As a player, your mission isn't just about racing to the finish line; it's about deftly navigating hostile environments while constantly growing and shrinking in size! It's a spectacle that exemplifies the exhilarating genre of ball games.
In this game, green walls are your allies - every collision brings growth or multiplication to your ball total. Conversely, red walls are relentless foes that shrink or reduce your balls. These elements present interesting dynamics familiar to fans of skill games, requiring precision, quick decision-making, and strategic planning to ensure you have at least one ball crossing the finish line.
Clone Ball Rush boasts impressive 3D models and platform tracks that add a unique flavor to running games. The intricate level design creates a pulsating rhythm through each stage - keeping you on your toes as you strive for flawless runs. The game delivers nail-biting suspense with each jump, swerve and rush towards the end flag.
The artistry of weaving through obstacles while managing the size of your balls transforms this game from simply being another addition to the world of arcade games into a unique experience for seasoned gamers. But don't be fooled! While it promises plenty of fun, its challenges demand sharp reflexes and an unerring eye for detail.
In conclusion, Clone Ball Rush perfectly displays what ball games can achieve when they incorporate dynamic elements from skill and running games. There's never been a better time to test your gaming prowess – so get ready for rush hour at its most exciting. Good luck and have fun!
What are the best online games?