Clash of Warriors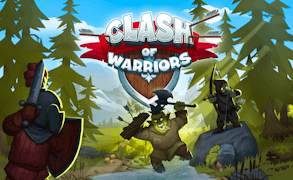 Clash of Warriors
Description
In the riveting world of Clash of Warriors, you are thrust into a fantasy realm teeming with strategy and adventure. As an aspiring commander, you handpick magic cards from a selection of 90 exceptional choices, designing a powerful deck. Engage in thrilling battles, topple your rivals, and progress through all 10 captivating Arenas. The game offers a mesmerizing adventure filled with untold possibilities and rewards.
How to Play
Clash of Warriors is all about strategy and careful card placement. Using your mouse or keypad, you select magic cards from your deck and place them on the battlefield. Succeeding in the game relies heavily on your ability to strategize and outsmart your enemy. Progression through the 10 Arenas unlocks new cards, bonus rewards, and more challenging opponents.
Tips and Tricks
Strategic card selection is pivotal in Clash of Warriors. Prioritize cards that complement each other for powerful combos. Always maintain a balance between attack and defense in your deck. Observing your opponent's playing style can also provide valuable insights for planning counterattacks.
Features
An expansive collection of 90 unique magic cards
Ten stimulating Arenas to conquer for progression
Rewards and level-ups gained with each victory
An immersive strategy-based gameplay experience
A competitive landscape where skill trumps luck
What are the best online games?
Tags