Clash of Golf Friends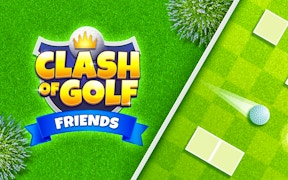 Clash of Golf Friends
Step onto the virtual green and immerse yourself in the electrifying world of Clash of Golf Friends. Uniting lovers of golf games, this real-time multiplayer game is a hole-in-one experience that will challenge you and your friends to finish all 10 holes in the minimum time.
Right from the opening tee-off to the final putt, Clash of Golf Friends captures the spirit and tension of a real-world golf match. The graphics are stunning, the controls are fluid, and the gameplay is as engaging as any ball game should be. Sporting an intuitive interface, it caters to both novice and veteran players ensuring everyone can enjoy this golfing extravaganza.
In a market saturated with single-player golf games, this game's unique edge is its enticing 2 player games feature. With options to play a quick match or engage in a fierce tournament with your friends - Clash of Golf Friends adds a fun new twist to traditional ball games. Not only does it provide thrilling head-to-head gameplay, but it also serves as a social platform where you can compare scores, boast about your victories, or simply chat about your strategies.
Aiming for that elusive hole-in-one will require skillful judgment, precision, and perfect timing - just like real life golf. Can you handle the pressure? Can you secure victory amidst nail-biting competition? The adrenaline rush you'll get when edging past your friends to rank number 1 is simply unparalleled.
To sum up; whether you're a passionate golfer or just looking for something new in sports gaming, Clash of Golf Friends offers an exciting blend of competition, strategy, and social interaction. So grab your clubs (or rather your mobile device), invite your friends over for a round or two – because Clash of Golf Friends is not just another game, it's an event!
What are the best online games?