Civilizations Wars Master Edition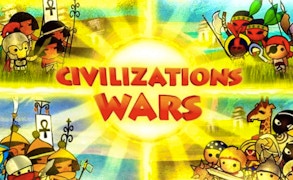 Civilizations Wars Master Edition
If you've been on the hunt for a game that seamlessly blends war games, building games, and battle games under one virtual roof, your search ends with the captivating Civilizations Wars Master Edition. This title breathes new life into the strategy genre with its fast-paced thinking requirements and diverse gameplay possibilities. So grab your mouse and prepare to be captivated.
The first thing you'll notice in Civilizations Wars Master Edition is its unique blend of four different games in one. It's as though the developers have woven together a rich tapestry of gameplay genres to create an experience that's as diverse as it is addicting. Moving from battle to fortification, from expansion to management, this game never misses a beat.
You're given a chance to choose your favorite race before you dive into escalating levels of difficulty. But what truly sets this game apart is the feeling of progression it instills in its players. The journey from small tribe leader to victorious commander gives a sense of accomplishment like no other. Playing through tons of levels isn't just a grind; it's a march towards triumph.
The phrase 'lead your people to victory' has never been more engaging. Whether it's through carefully planned strategies or bold moves in times of crisis, every decision in Civilizations Wars Master Edition can chart the course for future victories or spell doom for your civilization.
In conclusion, Civilizations Wars Master Edition takes strategy gaming to an unprecedented level with its blend of war, building, and battle elements. It's a microworld waiting for history's heroes - an inviting battlefield for contenders ready to prove their strategic prowess.
If you have always found solace in challenging strategy games, then Civilizations Wars Master Edition could be your perfect playmate!
What are the best online games?