Christmas Shiboman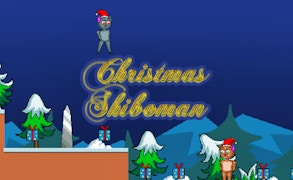 Christmas Shiboman
Description
Step into the festive shoes of Shiboman in Christmas Shiboman, an enchanting 2D platformer packed with festive spirit. Your quest? Collect the scattered blue gift boxes across a series of unique and challenging levels. But beware, your journey is fraught with danger—avoid ne'er-do-well enemies and perilous obstacles such as giant blades and treacherous spikes. The difficulty escalates as you progress towards the tantalizing orange flag that signals the end of each level.
How to play
In Christmas Shiboman, navigate using either the "WASD" or "Arrow" keys, with the "W" or "Up" arrow key offering a handy double jump to evade hurdles or reach higher platforms. Reach for those blue gift boxes while skilfully dodging foes and hazards on your way to the concluding orange flag of each level.
Tips and Tricks
Master the double-jump ability early in the game—it's invaluable for traversing tricky obstacles and reaching those hard-to-get gift boxes. Also, try to anticipate enemy movements to avoid unwanted confrontations. Remember, each level ratchets up in difficulty; careful navigation is key!
Features
Festive Theme: Perfectly captures the spirit of Christmas.
Precise Controls: Responsive 'WASD' or 'Arrow' keys controls allows precision movement.
Intricate Levels: Each stage comes with its own set of unique challenges.
Increasing Difficulty: Perfect for players who love to test their gaming skills.
What are the best online games?