Christmas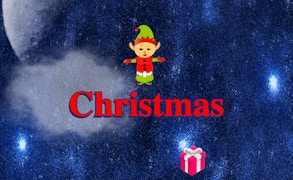 Christmas
Description
In Christmas, a fun-filled arcade adventure, you play as a heroic character on a mission to gather presents and deliver them to Santa Claus. Enjoy the picturesque landscape adorned with a serene half-moon as you skillfully navigate through numerous levels filled with explosive obstacles. A single mishap could end your journey, making this game an exhilarating test of your dexterity and speed.
How to play
Control your character using the arrow keys on your keyboard. Move swiftly, dodging bombs that threaten to end your game. As you dart through the beautifully crafted levels, make sure to collect as many gifts as possible. Successfully deliver these presents to Santa Claus to progress further into the game and rack up high scores.
Tips and Tricks
Speed is of essence in this game but do not forget about precision. The bombs are placed in tricky locations, requiring careful navigation. Be quick but also be watchful of every move you make. Gather as many gifts as possible without risking too much - it's all about achieving a perfect balance.
Features
An engaging arcade-style gameplay that tests speed and dexterity.
Ravishing visuals complemented by captivating Christmas theme.
A plethora of challenging levels, each filled with strategically placed obstacles.
The ability to record high scores which adds a competitive aspect.
What are the best online games?