Children Doctor Dentist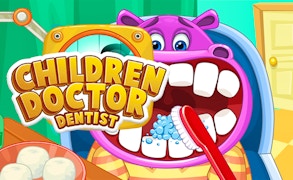 Children Doctor Dentist
Description
Join the exciting world of veterinary dentistry in Children Doctor Dentist. This engaging game puts kids in the role of a professional dentist, tasked with curing dental ailments of their furry patients. The patients are adorable animals who are suffering because they couldn't resist their sweet tooth. Kids will learn about oral hygiene while having tons of fun!
How to Play
Your role as the dentist is to heal each patient using different dental tools. Click or tap on each tool and apply it to the aching tooth. Progress through stages by successfully treating each animal's teeth. The game gets more intricate as players advance, teaching them about various dental procedures and treatments.
Tips and Tricks
Pick the correct dental instrument for each specific task to easily navigate through each level. Also, move quickly, as some levels are timed. Don't forget to comfort your patients; after all, they're just cute little animals with a sweet tooth!
Features
Cute animal characters to treat.
Diverse range of dental tools for varying treatments.
Educational gameplay introducing children to the basics of dental care.
Vibrant graphics and easy-to-use interface.
What are the best online games?