Chiellini Pool Soccer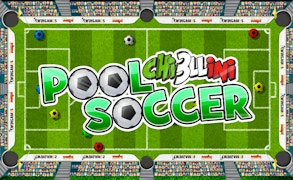 Chiellini Pool Soccer
Description
Enter the thrilling world of "Chiellini Pool Soccer", a unique blend of Pool and Soccer. This exciting game allows you to engage in a pool billiard-themed soccer match. The game is packed with various modes to test your skills. You can choose from 4 different game modules and your favorite soccer team shirt. Strive to score high, secure your position in the ranking and outsmart your opponents!
How to play
To play, select from the 4 game modules available which vary in difficulty and rules. Choose your favorite team's shirt as your avatar. The gameplay is very similar to pool billiards but with a twist of soccer, so aim carefully, strike the ball strategically, and try to score goals just like in soccer. The more goals you make, the higher you will climb in the ranking.
Tips and Tricks
The trick lies in maintaining a balance between skill and strategy. An accurate aim can put you ahead of others but a smart strategy differentiates champions from players. Study the layout of balls before making a move and plan ahead on which ball to hit next for maximum points.
Features
Variety of Game Modes: Flexible gameplay with 4 different modules.
Soccer Theme: Choose from various football team shirts as avatars.
Global Ranking: Compare your scores with players worldwide on leaderboards.
Strategy Gameplay: Plan your moves tactically for maximum points.
What are the best online games?