Chicken Ko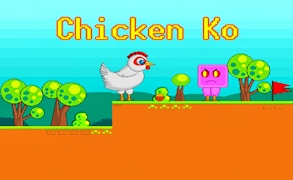 Chicken Ko
Description
In Chicken Ko, embark on a thrilling 2D platform journey as an adventurous chicken. Your mission is to gather grain bowls and successfully get to the red flag at each level's end. However, the task isn't simple, as you must dodge dangerous enemies and treacherous spikes. Every progressing level adds a new layer of complexity, challenging your skills.
How to Play
To control your chicken, use either the WASD keys or the Arrow keys. Perform a double jump by pressing the W key or the Up Arrow key twice. Your objective is to collect all grain bowls and arrive at the red flag while evading threats.
Tips and Tricks
To maximize your score, try to collect all grain bowls in every level. Don't forget that mastering double jump can help you surpass difficult obstacles and reach inaccessible spots. Always be aware of your surroundings to avoid enemies and spikes.
Features
An intriguing platform adventure with a cute Chicken protagonist.
A wide variety of levels of increasing difficulty to test your gaming skills.
A simple yet effective double jump mechanic for added control flexibility.
Dangerous enemies and sharp spikes that add an element of thrill and challenge.
Vibrant graphics that enhance gameplay experience.
What are the best online games?