Cheese Collector - Rat Runner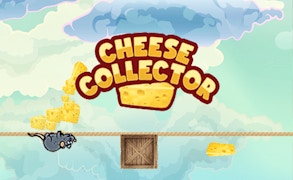 Cheese Collector - Rat Runner
Description
In Cheese Collector - Rat Runner, embark on a thrilling chase for cheese with hungry rats in this engaging arcade game. Using one-tap controls, guide our furry heroes along a rope, dodging hazards as they race to satiate their hunger. Beyond its deceptively simple gameplay lies a world filled with unexpected obstacles and tantalizing bonuses. The goal is to collect cheese and bonus points while outrunning the endless dangers on the rope!
How to play
The controls of Cheese Collector - Rat Runner are very simple: just tap the screen to guide your rat along the rope! Make sure you time your taps perfectly to avoid obstacles and collect bonus items. This addictive game runs on an endless loop until your rat fails to grab the cheese or encounters an obstacle. Remember, quick reflexes are key!
Tips and Tricks
Always pay attention to upcoming hazards while collecting your cheese rewards in Cheese Collector - Rat Runner. Timing is key - tap at precisely the right moment to seize bonuses and dodge threats. Keeping track of rats' eating patterns can also help balance which rat needs more attention.
Features
One-tap control: Simple yet addictive gameplay that's easy to pick up but hard to master.
Endless runner style: Play continuously without any stages or breaks.
Bonuses: Collect additional points through bonuses scattered throughout the game.
Rat Tracker: A unique feature that tracks each rat's eating history.
What are the best online games?