Checkers Online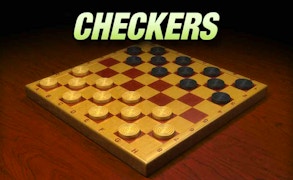 Checkers Online
You can debate for a while over whether card games or board games came first, but the latter has just as much lastability as proven by Checkers Online. This game may be older than Chess and is considered much easier to learn. However, don't fall into the trap of thinking that it's easier to win as it requires just as much strategic thinking as its more complex counterpart. Checkers definitely lets you take your time and each piece having the same moves means that every single one is powerful. This means that it's worthwhile to hold onto as many as you can as you advance.
About Checkers Online
The appeal of board games is their lax nature. This isn't to say that they can't get very active, intense, or competitive, but they're mainly built for players to take as much time as they want. Checkers has always had a design made for easy absorption and interaction but can challenge your strategic thinking as much as any complex modern board game. There are always more options than may be readily apparent and the challenge is to try and find all of them before deciding to make your move. Only then can you hope to appreciate every part of the game.
How to Play
Checkers Online is a 3D competitive board game that you play with the mouse. The game begins with you choosing whether to play as the white or black pieces. No matter which you choose, the white side always moves first. The game uses standard Checkers rules and is arranged on an 8 by 8 board. Each piece can only move forward, but must either move one spot diagonally on the left or on the right. To move a piece, click on it and then choose the highlighted spot you want it to move.
In order to take the opponent's pieces, your piece needs to jump over them diagonally. This can only be done if the opposing piece is occupying a diagonal space in front of one of your pieces and the diagonal space behind them is open. As a result, consecutive jumps are also possible. If one of your pieces makes it to the last row on the other side of the board, that piece becomes a King and gains the ability to move diagonally backward or forward. To win the game, you must eliminate all of your opponent's pieces.

Tips and Tricks
Even though the pieces have limited movement, there is a fair amount of maneuverability when you consider all of your pieces as one force. As you move pieces forward, be sure to cover holes in your side to avoid multiple jumps from the opponent. Be wary of letting your pieces get trapped on the left or right sides of the board.
Game Details
Developer: Arthur Samuel (creator of the original game)
Platforms: Web Browser (PC and mobile), iOS, and Android
Languages: English
Gameplay Footage
FAQ
Can I play Checkers Online with friends?
Despite the title, you'll only be able to play single-player games against the computer. However, certain app versions will allow you to play games against other players.

Is Checkers really easier than Chess?
Simply due to the fact that Chess has multiple kinds of pieces with different behaviors that allow for various strategies, Checkers is generally considered much easier to learn and play.

Games similar to Checkers Online
This game has quite a lot of coverage having its own category in Checkers Games but also fits in Board Games on GamePix. They also have games like Checkers Legend, Reversi, Uno Online, and 3D Chess.
What are the best online games?
TAGS