Checkers Casual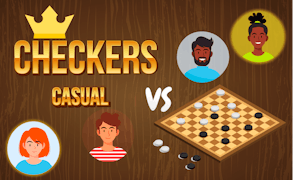 Checkers Casual
Description
Embark on a thrilling strategy-based journey with Checkers Casual. This game is a modern rendition of the classic board game, Draughts! Flex your intellectual muscles and engage in an intense competition against in-game AI or multiplayer mode. With its vibrant design and easy-to-learn instructions, you will be hooked in no time!
How to play
To start playing, click on your checker piece and then click on the empty spot you want to move to. You can only move diagonally and capture the opposite checker by jumping over it. The game ends when one player cannot make any more legal moves. The player with the most captured checkers wins!
Tips and Tricks
A smart strategy is key in winning at Checkers Casual! Always try to control the center of the board and aim to develop a piece into a king. Also, be careful not to leave any pieces unprotected, as they may get captured easily by your opponent.
Features
Multiplayer mode: allows you to play against friends or other online players.
Classic gameplay: familiar rules of Draughts for everyone's understanding.
User-friendly interface: provides a clean, easy-to-navigate design with vibrant graphics.
Absolutely free: enjoy unlimited entertainment at no cost at all!
What are the best online games?