Catwoman Pregnant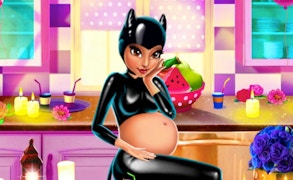 Catwoman Pregnant
If you're into Games for Girls and Operation Games, then you're in for a treat with the captivating adventure, Catwoman Pregnant. This fascinating game merges the playful realm of superhero fantasy with the tender realities of motherhood, making it a standout in kids' gaming.
In Catwoman Pregnant, our feline heroine isn't battling thugs or pulling off heists; she's prepping for an even bigger task - motherhood! Catwoman has traded her whip for a baby bump and her next mission involves visiting her doctor to check on her little one's health - an adventurous ride that bridges the gap between superheroes and real-life experiences.
But don't worry, this isn't your typical operation games. This unique blend of superhero antics and lifelike scenarios gives players the chance to step into Catwoman's high heels and feel firsthand what it's like to expect a super-baby. From prenatal checkups to hearing the tiny heartbeats of Gotham's future hero, this game is sure to tug at your heartstrings!
The charm lies in showing Batman, aka dad-to-be, that first ultrasound picture. Thanks to some incredible graphics and gameplay mechanics, you'll have so much fun navigating through these enjoyable, yet educational challenges.
Catwoman Pregnant, with its engaging concept and user-friendly gameplay mechanics, is shaping up as an absolute must-play in the realm of Games for Girls. So why wait? Embark on this beautiful journey today and help Catwoman prepare for her exciting new chapter as a mom-to-be!
The next generation of superheroes is just a click away!
What are the best online games?