Catch Bombs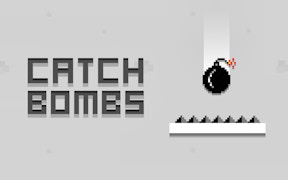 Catch Bombs
Description
In Catch Bombs, your reflexes are put to the test as you maneuver your character swiftly beneath the perilously falling bombs. This fast-paced arcade game offers a thrill-filled experience where survival is dependent on your ability to catch these explosive projectiles. Timing and speed are crucial in order to prevent the dangerous objects from hitting the ground and causing a devastating explosion.
How to Play
The controls of Catch Bombs are straightforward and easy to master. Utilize either your mouse or keyboard's arrow keys to move your character side-to-side under falling bombs. Timing is crucial - as soon as a bomb starts to drop, move quickly into its path to catch it before it hits the ground. The faster you catch, the more points you earn!
Tips and Tricks
Maintain keen focus and sharp hand-eye coordination, they are key in this game! Try predicting where bombs will fall next based on their initial positions at the top of the screen. Remember, each level ramps up in difficulty - adapting swiftly can make all the difference in securing a high score.
Features
Fast-paced gameplay - Keeps players engaged with swift action and relentless bomb dropping.
Simple controls - Easily mastered through mouse or keyboard arrow keys.
Evolving difficulty levels - Each level presents an increased challenge, pushing players to enhance their skills.
Scoring system - Rewards quick reflexes with higher scores for faster catches.
What are the best online games?
Tags