cat simulator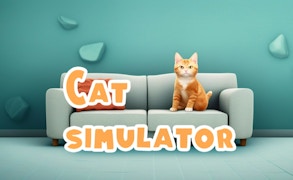 cat simulator
Don the mantle of a feline overlord in the riveting world of Cat Simulator. Inarguably one of the most immersive entries in the animal-games and cat-games genre, Cat Simulator is an innovative fusion of thrilling action and engaging simulation.
This game offers an intriguing blend of seemingly mundane activities reimagined into exciting challenges. From hunting down elusive rats to dousing unexpected fires and stemming spontaneous floods, gaming has never felt so purposeful. Every successful endeavor earns you coins which are no mere props in this game.
The coin system adds a refreshing layer to this enchanting simulator-game. Currency earned can be exchanged for essential commodities like milk and food to satisfy your feline hunger or spruce up your virtual avatar with stylish hats. This captivating element ensures that gamers remain glued to their screens, attempting various tasks to rake in those precious coins.
The game transcends the boundaries of age, providing endless entertainment with no levels to restrict your escapades. However, it ingeniously mimics life by reminding players about the importance of sleep. An action-packed, yet thoughtful reminder that even while deep within the throes of gaming excitement, health should remain a priority.
Overall, Cat Simulator is an enchanting melange of excitement and strategy. A bonafide entrant in the realm of simulator-games, it successfully uses simple gameplay mechanics to forge a captivating universe where gamers can explore their feline fantasies without limits. With each successful mission bringing its unique reward and boosting player engagement, Cat Simulator seamlessly blends action and simulation in a platform perfect for gamers of all ages.
What are the best online games?