Cat Fashion Designer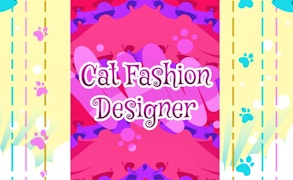 Cat Fashion Designer
If you've ever played dress up games or have a love for fashion games, then your purr-fect match has arrived in the form of Cat Fashion Designer. This adorable, innovative take on traditional outfit-creation games is not just for cat-lovers; it's also one of the most exciting new entries amongst high-quality games for girls, that lets your creativity shine and your inner designer emerge.
Right away, you'll be taken into a world full of fabulous felines ready to strut their stuff on the catwalk. Your task? Designing unique outfits for them. Put together trendy looks using fur-friendly accessories, select from a multitude of colors and patterns, and watch as your designs come alive on your fashionable feline models.
The game also offers numerous opportunities to enhance your fashion-forward ideas with a variety of dress up challenges. It's almost like playing 'Project Runway', but with an irresistibly cute twist! This immersive feature really sets this game apart within the realm of cat games.
The controls are intuitive and easy-to-use, making it accessible even to younger players who want to explore the world of fashion design. The graphics are bright, bold and inviting which adds a rich visual texture that keeps players engaged.
Cat Fashion Designer isn't just another run-of-the-mill dress-up game, it's a creative outlet that allows players to express themselves through fashion, all while having fun with some seriously stylish cats. If you're in search of new kids' fashion games or dress up games that offer something unique, give Cat Fashion Designer a try – it's sure to leave you purring with delight!
What are the best online games?