Casual Dress Fashion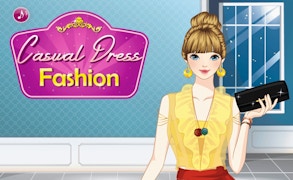 Casual Dress Fashion
Leap into the vibrant, exciting world of Casual Dress Fashion, an engaging foray into the universe of games for girls, packed full of allure and effervescence. This game is an absolute must-play for all budding fashion enthusiasts and those who harbour a fondness for dress up games and fashion games.
The premise is simple, yet irresistibly addictive: buy cool outfits, mix and match ensembles with élan, and immerse yourself in captivating photo sessions with a professional fashion photographer. It's your chance to step into the dazzling limelight, to strut your stuff on the digital catwalk and become the next top model!
The sparkle of sequins, the swish of satin, the rustle of tulle - every tiny detail in Casual Dress Fashion has been meticulously crafted to deliver a riveting experience. This game empowers young girls with creativity and encourages them to express themselves through style.
One of the standout features in Casual Dress Fashion is its incredible diversity. With a myriad selection of outfits and accessories at your disposal, you can let your imagination run riot! From chic casual wear to glamorous evening gowns - this delightful dress-up game caters to every fashion taste.
Casual Dress Fashion is not just about aesthetics; it introduces its players to essential life skills like decision making, resource utilization, and time management. Not only do you get to indulge in whimsical dress-up fun but also glean some real-world wisdom along the way.
In conclusion, Casual Dress Fashion surges ahead as a luminous gem in the realm of games for girls. It's more than just a dress up game – it's an empowering avenue allowing young girls to revel in their creativity while dabbling in high-fashion adventures.
What are the best online games?