Casual Chess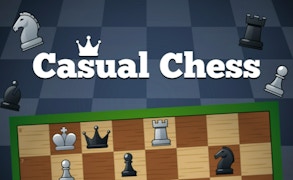 Casual Chess
Unleash your strategic prowess with the game of kings and queens that has dominated the realm of brain games; welcome to Casual Chess - the perfect fusion of challenge and fun. This delightfully engaging title elevates the genre of Chess Games, providing a refreshing experience for chess enthusiasts, novices, and everyone in between.
A standout in its field, Casual Chess brilliantly amalgamates challenging gameplay with user-friendly features. Whether you love playing as the fearless white or the cunning black, this classic two (2) player game caters to all. With easy, moderate, and hard computer AI options, you can tailor your gameplay according to your skill level.
Casual Chess is a game that demands strategy but doesn't forget to have fun. The various themes keep you engrossed while adding an element of surprise. The hints system is like having your personal grandmaster guiding you through every move- a feature highly appreciated by beginners and those looking to enhance their gameplay.
Apart from being a fantastic brain exerciser, it doubles as an ideal family game. While keeping all age groups equally entertained, it brings people together for some wholesome fun. The clean casual theme ensures that it doesn't alienate younger players or non-chess enthusiasts.
In summary, Casual Chess takes a disciplined approach to accelerating your mental agility while keeping entertainment at its maximum. It subtly encourages critical thinking under the garb of a casual board game - making it extremely approachable yet highly rewarding.
If you've always fancied yourself as Kasparov in making or simply want some delightful mental gymnastics after a long day - Casual Chess is worth checking out!
What are the best online games?