Case Clicker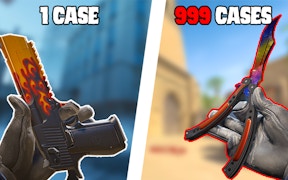 Case Clicker
Description
Experience the thrill of collecting with Case Clicker, a simulation that combines opening cases and clicker mechanics. The game offers an abundant variety of over 800 skins from 80 cases and collections. As players progress, they can enhance their income, open superior cases, and elevate their chances for acquiring more exclusive skins. With missions, contracts, ranks, and mini-games, Case Clicker truly captivates through its complex strategy elements interwoven seamlessly into an arcade experience.
How to play
The controls in Case Clicker are straightforward; just click to open cases or undergo any other action. Take on diverse missions and complete them for earnings and experience points. Use your amassed wealth to upgrade your case opening capabilities or invest in new collections. Don't forget to move up the rank ladder by improving your collection and increasing your income.
Tips and Tricks
Earn more by focusing on completing missions. Invest wisely in upgrades that boost your income or better case openings. Always remember to use contracts; exchange 10 less valuable skins for one of higher quality to improve your overall collection value. Understand the dynamics of each minigame; they offer valuable chances to win exclusive skins.
Features
Diverse case opening with over 80 cases and collections.
An intricate upgrade system with over 300 upgrades available.
A variety of mission-based earnings and progression.
In-game contract system allowing exchanges for higher quality skins.
A ranking system providing competitive progression.
Multiple mini-games offering valuable skins as prizes.
What are the best online games?