Cartoon Bricks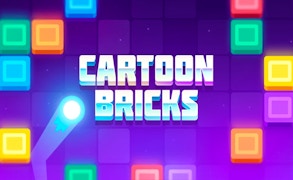 Cartoon Bricks
Description
Brighten up your gaming world with Cartoon Bricks, a captivating brick-breaking game that promises hours of endless fun. The game features vibrant cartoon graphics and challenges that appeal to gamers of all ages and abilities. Use your quick reflexes to swipe and shatter the bricks, collecting points and power-ups. However, not all bricks give in easily, providing a thrilling gaming experience.
How to play
The controls for Cartoon Bricks are remarkably straightforward. Simply use your finger to swipe across the screen to control the paddle. Keep an eye on the bouncing ball and aim it accurately at the bricks to shatter them. As you progress in the game, you earn points and unlock powerful power-ups that can aid your gameplay. Remember, specific resilience of some bricks adds a level of challenge.
Tips and Tricks
To excel at Cartoon Bricks, always ensure you're focused on the ball's movement. Understanding its trajectory helps you position your paddle for maximum impact. Be strategic about using power-ups; they can be real game-changers when used wisely. Lastly, be persistent – some bricks are harder than others but not impossible!
Features
The unique aspects of this game include:
Vivid, appealing cartoon graphics
User-friendly controls, perfect for both beginners and expert gamers
A blend of easy-to-break and resilient bricks providing a balanced game difficulty level
Diverse power-ups enriching the gameplay experience.
What are the best online games?
Tags