Carrom 2 Player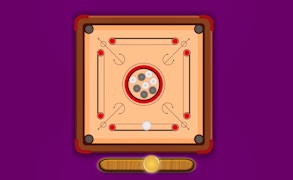 Carrom 2 Player
Immerse yourself in the sheer thrill of Carrom 2 Player - a strikingly captivating arcade game that is simultaneously simple and exhilarating, drawing you into the dynamic world of carrom gameplay. This review will take you on a journey through the virtual realms of this gripping 2 player game, drawing attention to its most salient features and illustrating why it should be your next gaming obsession.
Mimicking the physical feel of carrom, Carrom 2 Player is an engaging recreation of a classic strike and pocket game. Much alike billiards or pool games, it propels you into an arena where precision meets strategy, invoking the same high-spirited competition that real-life carrom has sparked for centuries.
The magic lies in its simplicity. The controls are intuitive, appealing to gamers of all experience levels. You navigate through this electrifying battlefield with just your mouse; aim and shoot the disk with ease, recreating the zig-zag shots you've perfected in real-life carrom games. It's in this fusion of the virtual and tangible world where Carrom 2 Player truly triumphs as a standout arcade game.
This game opens up an arena for endless possibility. Putting your skills to test against your competitor's in this electrifying 2 player game. Craft your strategy, master your aim, unleash show-stopping shots, and watch as victory unfolds before your eyes.
In conclusion, whether you're a seasoned carrom veteran or eager newbie looking to dabble in the world of pool games, Carrom 2 Player serves as a brilliant rendition of one of world's most beloved board games. It's time to get striking!
What are the best online games?
Tags