Carley Queen: Fun Tattoo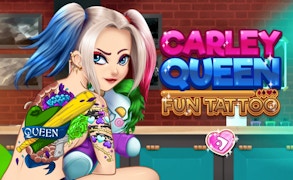 Carley Queen: Fun Tattoo
It's time to roll up our artistic sleeves and dive into the vibrant world of Carley Queen: Fun Tattoo, undoubtedly one of the most delightful games for girls that manages to beautifully fuse creativity and fun.
Upon embarking on this colorful journey, we are greeted with the charming Carley, similar but not identical to Harley from the world of superheroes, who's eager to embark on a daring adventure - getting a massive tattoo! Now it's up to us, the players, to help her in this exhilarating journey, making this game a fascinating treat for those who love dress up games.
The mission entails more than just choosing a tattoo. It requires imagination and skill as we delve into an extensive colour palette at hand, colouring the tattoo meticulously on Carley's back. The simple yet engaging gameplay will keep players hooked for hours on end. This dress-up aspect gives a personal touch as you can truly express your artistic flair through your design choices.
All this while keeping an intriguing backstory: Carley wants to impress Joker - another nod to comic book fans - lending an appealing narrative thread throughout the experience. The art style is vivid and appealing, with bright colors and attractive designs which makes it accessible and attractive for its target market.
Carley Queen: Fun Tattoo is beautifully crafted, brimming with creativity and packed with engaging content that will certainly resonate with girls who love dress-up games. A must-play game if there ever was one! So why wait? Engage in this delightful endeavour of helping Carley get her dream tattoo now!
What are the best online games?