Car Wash With John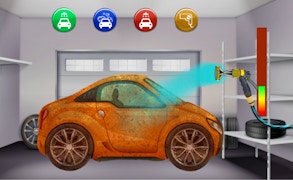 Car Wash With John
Immerse yourself in the vibrant world of Car Wash With John, a standout among games for kids. Beyond the routine of merely playing, this game also provides an avenue to explore your creativity in a fun and engaging manner. Whisking you away from the conventional track-filled frenzy of most car games, Car Wash With John offers a unique twist that sets it apart.
The concept of the game is quite straightforward – wash cars and give them a brand-new look. However, what makes this game exciting and entrancing is its intricate detailing. With a total of 5 different cars to choose from, kids are bound to have an enthralling time picking their favorite.
In Car Wash With John, washing dirty cars transcends just applying soap and rinsing. The washing process is a spectacle itself - adorned with plenty of foam and followed by drying, it brings the whole car wash experience to life on your screen! This thoughtful inclusion takes this kid's puzzle game to heights not seen in typical car games.
But that's not all! After washing comes the most exciting part: decoration! It boasts a selection of 10 different colors, 9 different rim colors, and 8 different stickers allowing for an endless combination that keeps you hooked. Use these elements to create your own unique style and get ready for a thrilling ride!
A noteworthy feature is that Car Wash With John doesn't just stop at washing and decorating. The fun continues as you enjoy your newly washed car on roads complete with small ramps giving players quite the exhilarating ride!
In conclusion, Car Wash With John is more than just another addition to the pool of games for kids or common car games. It's a delightful blend of creativity-stirring features wrapped up in an enticing world full of color and fun. It's undeniably one engaging game that every kid should have.
What are the best online games?
Tags