Car Nabbing Race - The Police Car Chase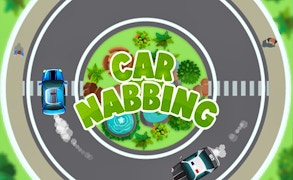 Car Nabbing Race - The Police Car Chase
Description
In Car Nabbing Race - The Police Car Chase, you'll be riding the waves of adrenaline as you avoid a determined police force on your tail. As the leader of a high-stakes race, your objective is clear - don't get caught! With cunning cops changing their chase strategies and multiple cars out to get you, it's a real-world, high-speed adventure. This game is all about quick thinking, reactive moves, and most importantly, speed!
How to play
The goal is simple: avoid getting caught by the police while maintaining your lead and not crashing! The game depends on your skill to control the car's speed and direction. Beware! The Police are clever and change their chasing strategies. Speed up when needed but also keep an eye on upcoming cars from each side. Your success will depend on how well you can adapt and react to these changing circumstances.
Tips and Tricks
Maintaining speed is crucial but remember not to lose control. Cops might seem relentless but they tend to run out of steam after a while. Keep an eye out for speed power-ups that can help you in keeping up the pace. Try weaving between cars or jumping over them for a daring escape!
Features
Cunning Police: They don't just follow you - they adapt their chasing strategy!
Multiple opponents: Not one, but several police cars are after you.
Real world scenarios: Experience high-speed chases like in real life.
Race Leader Status: You start off in first place - maintain it!
What are the best online games?