Car City Adventure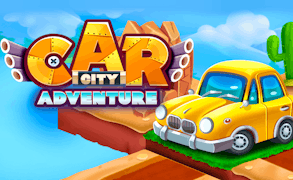 Car City Adventure
Description
Embark on a thrilling road trip in Car City Adventure, a captivating puzzle game. Your role? Ensure the car reaches its finish line by manipulating an array of road blocks. Three unique modes offer diverse challenges, requiring you to swap, rotate, or delete blocks to create a clear path towards victory. Expect different bonuses and setbacks as you navigate your way through these mind-bending mazes.
How to Play
The gameplay is simple yet addictive. Use your mouse or touchpad to drag and drop blocks, creating a complete path for the car to traverse. In each mode, you'll encounter distinct challenges - whether swapping blocks in one mode, rotating them in another, or removing them altogether in the final mode. Your aim is always to create an unimpeded route for your vehicle, from start to finish line.
Tips and Tricks
The key to success lies in planning your moves ahead of time and maximizing use of your available blocks. Don't rush into decisions; sometimes, a challenging block holds the key to success. Always remember - rotation and deletion are strategic tools that can turn the tide in difficult situations.
Features
Engaging Gameplay: The swap, rotate and delete mechanics keep players constantly engaged.
Variety of Modes: Three distinct modes ensure diverse gameplay and replayability.
Puzzle Challenges: Each mode presents unique challenges that require strategic thinking.
Addictive Fun: Simple mechanics combined with compelling puzzles ensure hours of enjoyable gameplay.
What are the best online games?