Cannon Ball IO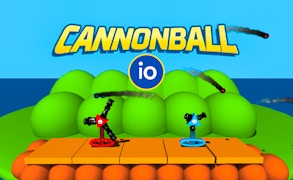 Cannon Ball IO
Description
In Cannon Ball IO, you'll find yourself in a thrilling battle of skills and strategy. This multiplayer online game pits you against opponents, challenging you to use your weaponry effectively to be the last one standing. Engage in adrenaline-pumping battles amidst meticulously designed environments. The game combines intuitive controls and immersive gameplay, making it a definite must-play for fans of battle games.
How to play
Use the mouse or touchpad to control your cannon's direction. Click or tap to fire at your opponent. You can also dodge enemy fire by moving your cannon strategically. The more opponents you beat, the higher your score will be. Use different weapons, each with unique abilities, to gain an edge over rivals. Remember, it takes both raw firepower and clever maneuvering to win in Cannon Ball IO!
Tips and Tricks
Lure opponents into a false sense of security by changing your shooting direction at the last moment. Always remember to dodge enemy fire, even if it means losing a shot at them. Use different power-ups wisely as they can alter the tide of battle. Above all else, practice frequently; perfect timing and accurate shots are the keys to victory.
Features
Intuitive controls for easy navigation and firing

Multiples weapons with unique abilities to choose from

Online multiplayer mode for competing against other players worldwide

A scoring system that encourages competitive gameplay

Crisply rendered graphics for an immersive experience

Challenging and exciting gameplay mechanics
What are the best online games?