Candy Pop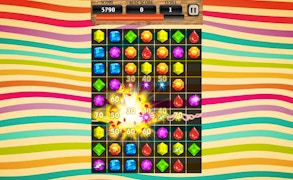 Candy Pop
Immerse yourself in a world of colorful confectionery with Candy Pop, one of the most captivating entries in the realm of match 3 games. As a delightful throwback to classic jewel games like Bejeweled, this game invites you on an exciting adventure that is both addictively challenging and visually appealing. Offering unlimited time to stack up maximum points, Candy Pop serves as the perfect companion to keep you entertained during those long queues or while waiting for friends.
The game sparks off your childlike fascination for sweets by presenting candies that are prettier than any jewel game you might have played before. Your task? Crush these vividly designed candies and trigger a chain reaction of fun and excitement. As simple as it seems, don't be fooled! The strategic depth required to score high makes Candy Pop much more than your typical match 3 game.
In addition to its compelling gameplay, Candy Pop's graphics are something to marvel at. The stunning amalgamation of vibrantly colored candies against a sleek, minimalist background is reminiscent of our beloved Bejeweled games. The bright cheerfulness coupled with an engaging soundscape takes you on an interactive journey that is just as much about aesthetic pleasure as it is about strategic thinking.
So whether you're a fan of challenging puzzles or simply want to experience the joy reminiscent of classic jewel and Bejeweled games, Candy Pop promises an engaging experience. Remember, it's not just about matching - it's about strategizing and anticipation. One thing is certain – once you start popping these candies, there's no stopping! Get ready to crush it in this candylicious match 3 game.
What are the best online games?