Cake Master Shop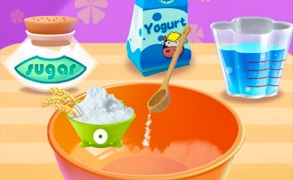 Cake Master Shop
Welcome to the enchanting world of Cake Master Shop, a delightful combination of cooking games, puzzles and absolute fun! Designed especially for burgeoning pastry chefs, Cake Master Shop will undoubtedly appeal to fans of Games for Girls and Games for Kids. Let's dive into this delicious, sugary adventure and examine why it's the perfect treat for your young ones.
At the heart of Cake Master Shop lies an irresistible charm that makes it one of the standout kids' games in recent times. It all begins with a simple question - which cake do you want to make today? This choice is more than picking between vanilla or chocolate; it's about fostering creativity among children.
The game boasts a vast assortment of ingredients for cake baking. Put them into bowls, blend them together, and voila! You've embarked on your journey to become a master baker! But remember, baking is just the first part of this delightful puzzle. As you progress through various challenge levels, more sweet surprises await—unlock unique cake recipes and explore new culinary horizons with each victory.
Baking, though crucial, is merely one facet of Cake Master Shop. Once your scrumptious creation is out of the oven, it's time to garnish it with some fresh fruits. Choose from a wide array of vibrant fruits and add that extra dash of color to your baked marvels.
With over 15 kitchen tools at your disposal, Cake Master Shop ensures every player gets an authentic baking experience. From rolling pins to spatulas, you'll have everything you need to bake up a storm!
In conclusion, Cake Master Shop masterfully combines elements from cooking games and puzzles. It helps children learn while having fun—a difficult feat successfully achieved by this delightful game. Whether you're looking for games for girls or simply engaging games for kids, Cake Master Shop delivers on multiple fronts.
What are the best online games?