Bushman Bamboo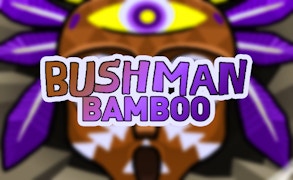 Bushman Bamboo
Description
Enter into the tribal world of Bushman Bamboo, a free online arcade game taking you to the riveting pursuits of bushmen. Utilize bamboo sticks to your advantage and navigate through challenging terrains. This game is enveloped in high-quality graphics and intriguing gameplay that ensures a thrilling experience for players with any activity level.
How to play
The gameplay of Bushman Bamboo is quite straightforward. Whether on desktop or mobile, your main control is your mouse or screen tap respectively. Click or tap on the bamboo stick to stretch it across gaps and maneuver through the levels. The more accurate your click/tap, the higher your score.
Tips and Tricks
To master Bushman Bamboo, timing is critical. Wait until you have a proper measure of the gap before stretching the bamboo stick. Constant practice will help you improve your timing, precision, and overall game performance.
Features
The game includes:
High-quality graphics providing an immersive gaming atmosphere.
Diverse levels offering varying degrees of challenges.
Intuitive gameplay mechanics making it easy for anyone to play.
A scoring system allowing players to monitor their progress.
What are the best online games?