Bunge Jungle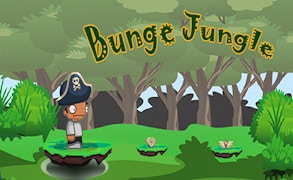 Bunge Jungle
Description
Prepare yourself for a unique experience with Bunge Jungle, an addictive platformer. This game is designed to keep you entertained for hours with its innovative tilt mechanics. Instead of tapping, players must strategically tilt their devices to jump from one platform to another. Filled with randomly placed platforms and obstacles, the game offers a thrilling vertical-scrolling journey that really stands out in the crowded genre of mobile gaming.
How to Play
To control your character in Bunge Jungle, just tilt your device: no more endless tapping! Your primary goal is to collect as many points as you can by jumping on platforms and avoid obstacles by tilting your device. The further you go, the higher your score gets! It's classic arcade fun with a fresh twist!
Tips and Tricks
Mastering the tilt mechanics in Bunge Jungle is key to gaining high scores. Learn how much you need to tilt your device to make accurate jumps. Taking risks can reward you with more points but also might send your character off the platform's edge!
Features
Unique control scheme: Just tilt your device - no need for tapping.
Addictive game-play: Easy-to-learn mechanics but challenging game-play.
Crazy Obstacles: Engage with different kinds of barricades that add complexity.
Infinite Mode: Enjoy endless gaming action with nonstop fun!
What are the best online games?