Island of Pirates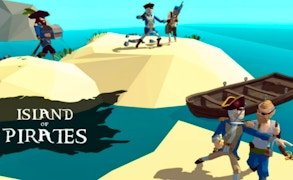 Island of Pirates
Step into a swashbuckling world of high-seas adventure in the Island of Pirates, a standout entry in the realm of battle, sword, and pirate games. This blistering melting pot of visceral action doesn't just set sail—it cannonballs directly into the heart of adrenaline-pumping thrill, raising the black flag high in the competitive universe of intricate war games.
The heart and soul of Island of Pirates resides in its robust fighting mechanics. As an aspiring pirate warrior, your mission is not only to survive but to thrive among soldiers, laying waste to enemies that dare to stand in your path. With a saber in your grasp and an unbroken spirit, you're invited to dive headfirst into warfare's ruthless ballet.
In this high-stakes journey against the blue soldiers, strategic offense meshes seamlessly with intelligent defense, creating an electrifying dance on the razor's edge. But don't be fooled; victory isn't merely about who has the sharpest blade or quickest reflexes—though they sure don't hurt. Rather, emerging victorious requires cunning strategy—the kind worthy of a pirate king.
The game's eye-catching visuals are a feast for the senses, rendering every cannon blast and saber clash with mesmerizing detail. Sound design is equally impressive; the thunderous symphony of war drums pounding as steel meets steel draws you deeper into this captivating world.
In conclusion, Island of Pirates establishes itself as an unforgettable experience for fans of battle and sword games. It beautifully marries intense action with strategic depth, offering players a stimulating challenge that will keep them gripping their controllers tight with anticipation! So tighten up your bootstraps and prepare for war; there's treasure waiting for those daring enough to claim it on the Island!
What are the best online games?