Bucketball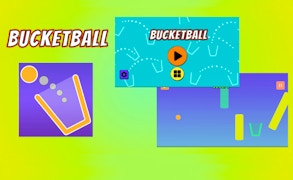 Bucketball
Description
In Bucketball, your challenge is to show off your accuracy and perfect timing. You play in a virtual world where you are provided with a ball and a bucket. Your mission is to shoot the ball through various intricate obstacles directly into the bucket. The game tests your patience and precision as each level intensifies with more complex structures and trajectories to deal with.
How to Play
The gameplay of Bucketball is quite straightforward yet intriguing. Click or tap to aim, adjust the trajectory and release to shoot the ball into the bucket. Always consider the obstacle layout when deciding on your shot's direction and power. The game's progression relies on you successfully tossing the ball into the bucket, enabling you to advance to more challenging levels.
Tips and Tricks
Your success in this game will hinge mainly on your strategy and accuracy. Take time to study each level's configuration before releasing the ball. Recognize patterns, understand obstacle behaviors, and plan accordingly. Remember, it's not just about throwing; it's about throwing correctly.
Features
Variety of Levels: Bucketball offers various challenging levels each with a unique set of obstacles.
Straightforward Controls: Simple click and drag mechanism for aiming and shooting, making it easy even for beginners.
Puzzle Aspect: The level design integrates puzzle elements which add another layer of challenge towards mastering the game.
What are the best online games?
Tags