Bubbles & Hungry Dragon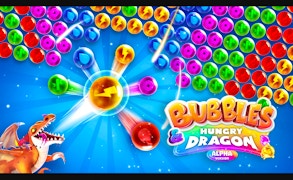 Bubbles & Hungry Dragon
Welcome to the magical world of Bubbles & Hungry Dragon, a vibrant merger of ball games, bubble shooter games, and dragon games. This captivating arcade game lives up to its hype by delivering an exhilarating gaming experience that will keep you at the edge of your seat.
The game sets you in a whimsical realm where you command a mighty dragon. You aim, shoot, and match bubbles of the same color, evoking memories of classic bubble shooter games. However, the incorporation of dragons adds a unique twist that enhances the dynamism and fun.
Each level is a hilarious battle between dragons. The primary goal is to burst as many bubbles as possible while outsmarting other players in thrilling team matches. Every bubble popped gives you the satisfying sensation reminiscent of your favorite ball games.
The graphics are brilliant with vivid colors that add to the game's overall aesthetics. It is not just about firing bubbles; it's also about strategy and quick thinking – attributes avid players love in dragon games. Additionally, with its intuitive controls and smooth gameplay, Bubbles & Hungry Dragon is arguably one of the best arcade team matches on offer today.
In conclusion, Bubbles & Hungry Dragon seamlessly combines elements from ball games, bubble shooter games, and dragon games into an enchanting blend that proves irresistible to any gaming enthusiast. The strategic gameplay coupled with riveting graphics ensures a compelling arcade experience. So grab your dragon and join this hilarious battle!
What are the best online games?