Bubble Runner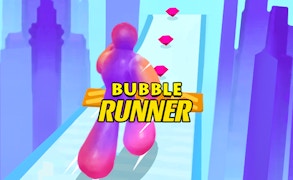 Bubble Runner
Description
Bubble Runner is an exciting and fast-paced game offered by GamePix. The main character of the game is a bubbly protagonist who must navigate through various hurdles. This runner-themed adventure provides endless entertainment with its dynamic gameplay and colorful design.
How to Play
The game's controls are incredibly simple to understand. The bubble man automatically runs forward, and your goal is to guide him past obstacles. To do this, you need to tap or click on the screen at the right moment, making him jump over the challenges he encounters on his run.
Tips and Tricks
To optimize your game, maintain a rhythmic tapping pattern. This will help you keep consistent control over your character. Furthermore, always keep an eye out for upcoming obstacles and be ready to react promptly for a seamless run.
Features
Easy controls: Simple tap or click actions make this game accessible for everyone.
Vibrant graphics: Enjoy visually pleasing aesthetics while you navigate through the level.
Engaging gameplay: The pace keeps you hooked from start to finish with its non-stop action.
What are the best online games?
Tags