BTS Cute Cats Coloring Book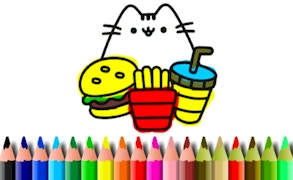 BTS Cute Cats Coloring Book
Immerse yourself in the colorful universe of the BTS Cute Cats Coloring Book, a delightfully addictive puzzle game that caters to every age group. This charming escapade is not only a part of the broad collection of animal games, but also one of the most loved cat games available on the market. It's an entertainment oasis for cat lovers and puzzle fanatics alike, brimming with adorable feline illustrations waiting for your artistic touch.
The genius behind this game is its simplicity. No timers, no pressure; it's all about pure fun and creativity as you relax into the world of cool cat characters. Your canvas? A myriad of pictures crying out for color, each one promising a unique and mesmerizing experience in this exciting world of drawing games.
The BTS Cute Cats Coloring Book offers a soothing yet engaging atmosphere, encouraging you to tap into your inner artist and breathe life into each cat-themed sketch. Paint a playful tabby or cloak a majestic siamese in vibrant shades – your will is your paintbrush in this versatile among coloring games.
If you have an affinity not only for puzzle games but also for adorable, whiskered creatures, then there's no doubt that you'll be captivated by this magnetic coloring game. The BTS Cute Cats Coloring Book has intelligently woven together elements from animal games, cat games, drawing games, and coloring games to create an enchanting pastime that tickles both your brain and heart.
In conclusion, if you are searching for a game where fun meets relaxation, then look no further than the BTS Cute Cats Coloring Book - skillfully making use of its various components including animals, cats, drawings and colors making it one of the most engaging puzzle game.
What are the best online games?